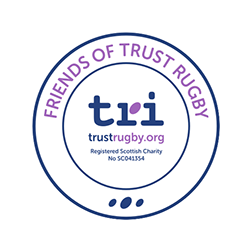 Become a Friend of Trust Rugby
Becoming our "friend" enables TRI to reach out further, continue to change people's perception of adults with learning disabilities and help us on our journey. As well as appealing to individuals we also have corporate friends. As a corporate friend, you will enhance your company's Corporate Social Responsibility, and receive the following benefits:
Regular copies of our newsletter and full of stories about Trust Rugby's work
A special mention in our next newsletter
Our certificate of appreciation
For corporate members:
Your logo displayed on our website, with a hyperlink to your website
Our logo & hyperlink on your website
The official "Friends of Trust Rugby" stamp to display on your stationery confirming that you support our charity.
A talk about the charity (This would be dependent on a mutually convenient time and location.)
To become a valued friend of Trust Rugby, display our stamp, recieve your official certificate and more importantly help us on our journey, please complete the application form below.
Please select your desired Friends Membership:
We have tried to make it as easy as possible for you to help.
Gift Aid Make your membership go further. You can help increase the value of your Friends subscription by making a Gift Aid declaration using the form below. For every £1 you give us, Trust Rugby can earn an additional 25p from HM Revenue and Customs by reclaiming the tax on your donation.
Declaration to HMRC
I am a UK taxpayer* and I wish Trust Rugby to reclaim tax, at no extra cost to myself, on all donations I make now and hereafter. If my status changes, I shall inform Trust Rugby.
BY CHEQUE: Please make cheques payable to Trust Rugby and send to:
TRI Office | Unit 217 | The Briggait | 141 Bridgegate | Glasgow G17 5HZ
BY BANK TRANSFER:
Sort Code: 40-44-46 Account No: 11463144